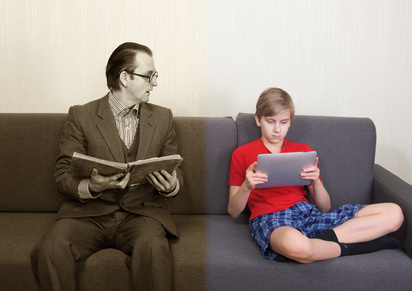 I am going to tell you the story of my great-grandfather who lived in a small village in Aveyron, in Gabriac. In this village there were storekeepers, in particular, downstairs from my family's home, a hardware store.
It was a nice little hardware store composed of 3 people: the boss, an assistant and a warehouseman.
The hardware merchant knew my great-grandfather very well, the names of his wife and children, the size of his garden… He also knew his food preferences because they would often bump into each other in the cafes and shops of Gabriac.
He therefore possessed a large volume of
extremely rich behavioral data.
A few years ago, noticing that my great grandfather would have to go back and forth in his garden a lot with his pitchfork filled with leaves, he offered to sell him a wheelbarrow in order to simplify his gardening.
A behavioral sale!
The following year, he told my great grandfather that this winter would be colder and start earlier than the previous ones and that he had received handles for the wheelbarrow that could protect his hands from getting damaged.
Up-selling with non-structured data (weather), we could almost call it Big Data!
Some time later, he proposed to complete his pitchfork with a rake. It would be a more efficient and simple way of gathering the leaves in his garden.
It was cross-selling!
Better yet, in the morning the hardware merchant would regularly bump into my great-grandfather at the cafe where he would talk about the products he had received that could certainly be of interest to him.
A few hours later during the day, they would bump into each other again at the bakery and directly conclude the sale there.
Incredible, he invented the multi-devices sale without interruption of AMAZON
Today, products or services have become diversified and shops have become decentralized. Therefore, the user, the buyer and the donor have become more demanding! They want customized offers, as fast as possible, etc.
Internet has placed the users needs at the center and the village of my great-grandfather has simply become global.
Digital transformation is not something totally new!
This is not only a technological problem (even though some do exist).
It is above all a certain culture that places in the center:
• autonomy;
• trust;
• letting go;
• and common sense.
And that consequently, forces you to reduce your fear, gives you the will to master by conceptualization and the strong notion of hierarchy.
Everyone becomes again a hardware merchant and a boss from the time of my great-grandfather in a small village of Aveyron.
Franck PASQUET is one of the Associate Directors of ARROWMAN Executive Search in France. He specializes in Technologies and Digital Marketing and the resulting innovations.